How to create a digital planner
A digital planner is a digital version of the traditional paper planner, and is usually an interactive PDF that can be written on using a tablet and a stylus. 
Just like a traditional paper planner, a digital planner can help you manage your goals, tasks and important appointments to get more organized.
If you would like to have a digital planner of your own, you might be interested in creating one yourself. You will first need to find an app that suits your preferences best, before following our step-by-step guide on how you can create your digital planner.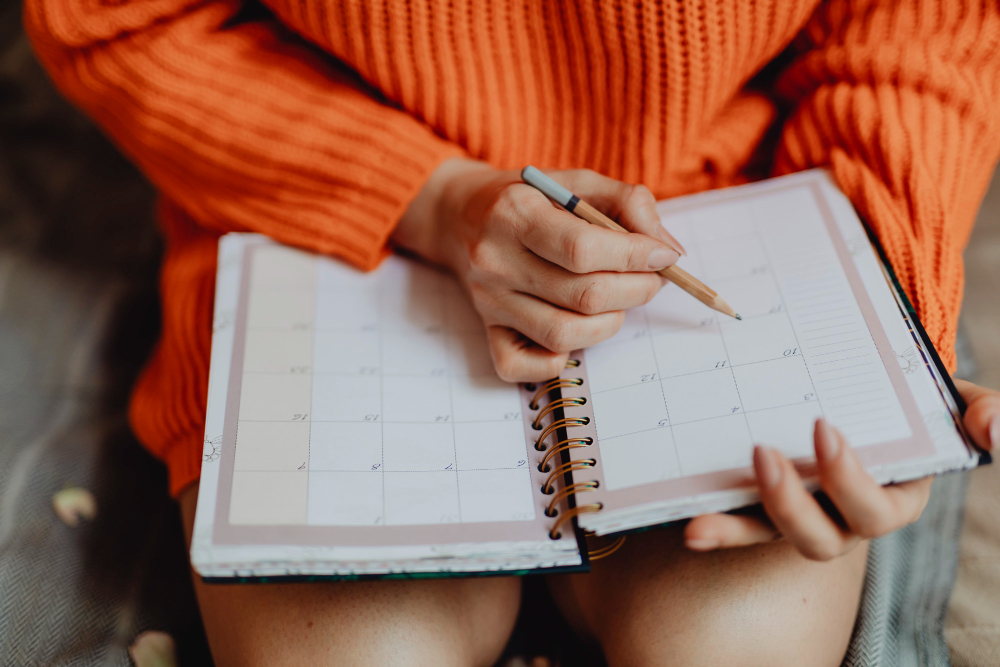 To begin with, you have to plan what sections and how many you would like to have in your planner. Here are some features that are commonly used in many planners, both digital and traditional.
Yearly planner
Monthly calendar spread
Monthly planner
Weekly planner
Daily planner and schedule
To-do list
Habit tracker
Meal, water and exercise tracker 
The number of features will determine the number of sections as well as the number of pages in your digital planner. At this point, simply getting an estimated number will do. 
Regardless of the app you have decided to use to create your digital planner, you will now need to think about the dimensions of your planner when you start a new project.
For consistency's sake, we recommend that you set the dimensions of your planner to A4 size (210 x 297mm or 3508 x 2480 px).
This way, in the event that you wish to print out any pages of your digital planner, it will be quick and easy to do so on an A4 sized sheet of paper.
When it comes to creating the pages of your digital planner, you will be mainly using the Shape tool as well as text boxes.
For example, a monthly calendar spread is made up of squares, rectangles and text. If you're feeling creative, you can even use other shapes such as circles and even stars. 
For a page like a daily planner and schedule, you will probably have to include lines that you can write on as well. 
Finally, don't forget to utilize color to spruce up the look of your planner! You may consider changing the page color or even add pictures or patterns to the background of your planner.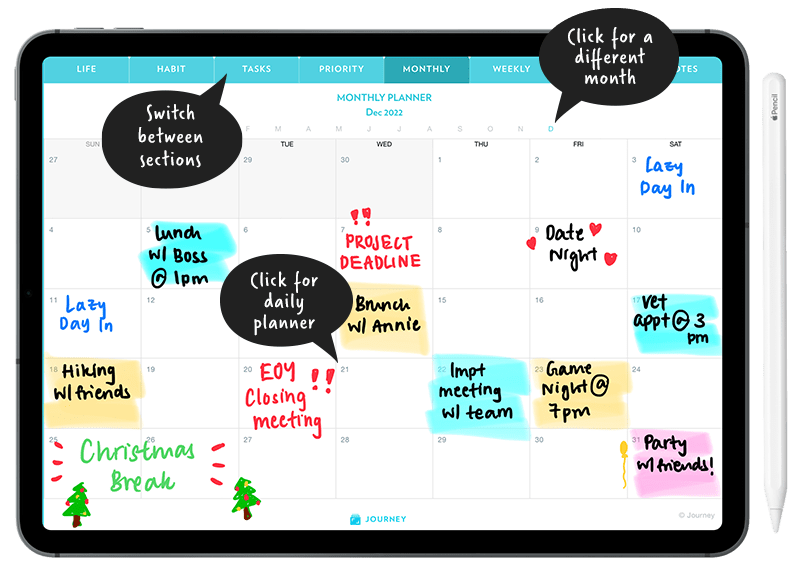 A digital planner can have many pages, depending on what features you choose to include. As such, it's important to make it easy to navigate through the different months, days and sections.
One way you can make navigating through your digital planner easy is with hyperlinks.
A traditional paper planner usually has tabs on the top or on the sides of the book to separate each section of the planner and to make it easy to navigate. You can do the same in a digital planner by creating tabs and adding hyperlinks to them.
To create tabs, simply create rectangles on the top or the side of your page. Create 1 rectangle for each section. 
Then, create a "Master slide" for each section. This will be the first page of each section and will be the destination of the hyperlink.
Finally, you can link each tab to each "Master slide". With this, clicking on a tab will bring you to the corresponding "Master slide" and section.
The tabs aren't the only way you can make navigating through the digital planner easy. You may want to include other links on other pages in your digital planner as well.
For example, you may want to link each date in a monthly calendar spread to a corresponding daily planning page. Again, you can do so by creating hyperlinks from the text box to the digital planner page in mind. 
When creating your digital planner, you will have to create multiple pages of the same design. For example, you will have to have 365 pages of your daily schedule for all days of the year. 
Instead of creating everything from scratch 365 times, you can simply duplicate the page and its design and make any minor adjustments as necessary.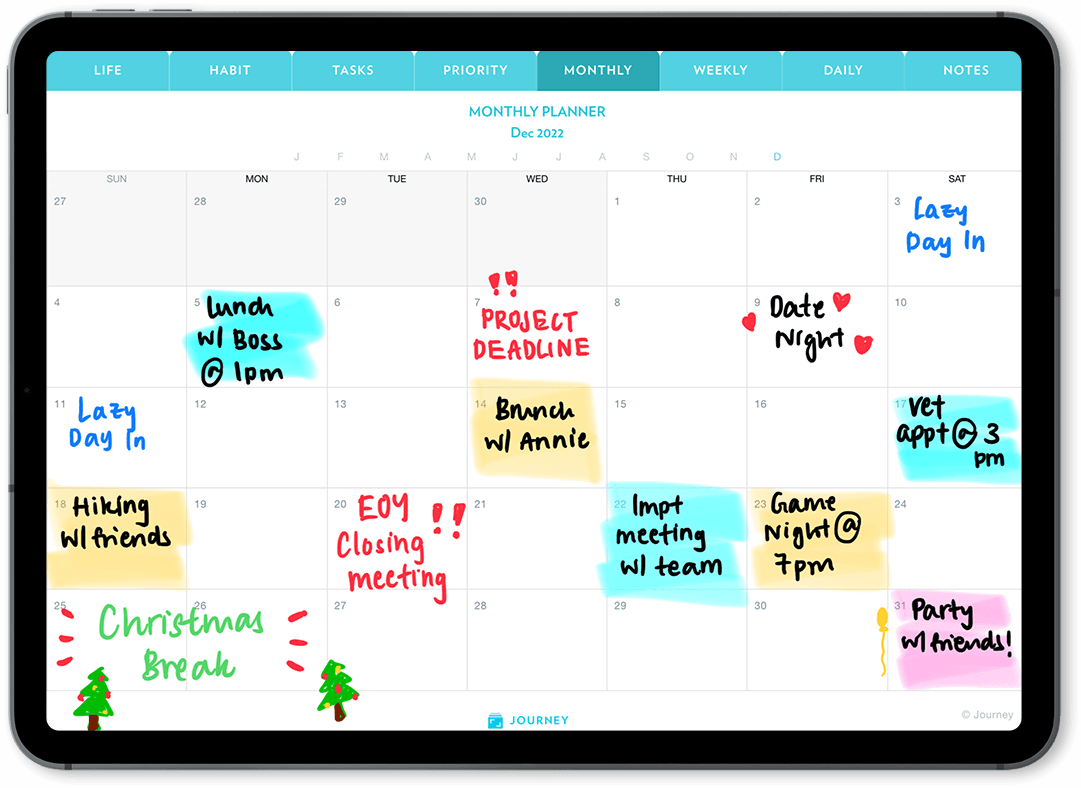 As you can see, it's not easy trying to create a digital planner of your own. It requires quite a bit of time, planning and effort. For those of us with busy lives, it can be difficult to do so when we have other pressing priorities to tend to. 
If you're interested in owning a digital planner, but not in the process of creating one from scratch, you should consider looking online for premade digital planner and digital planner templates. 
There are many different types of digital planners available for purchase and download, with different themes, designs and features, for you to choose from.
Start planning your life with a digital planner today!