Diary and Journal Templates
Simple and effective templates to help you start writing and reflecting
Writing in a diary daily is a habit that comes with a lot of great benefits such as focusing on goals and handling emotions. It can be a great experience that opens up to all types of thoughts and perspectives. However, journaling can be difficult to get started on at times. If you do not know where to begin, these simple templates can help you get the ball rolling.
Many people lack the self-discipline to journal daily and have struggled with consistency in writing. The number one reason for this inconsistency is that they do not know what to write about. If you are not a big fan of using stream of conscious when writing, you might find a journal template useful.
A diary template is useful when you are looking to keep an account of your activites. It gives you a format and set of guidelines that you can fill in to a journal entry. As every diary is different, here are some popular journal templates you can try:
"I am grateful for…"
Writing down three new things you are grateful for, for 21 consecutive days, can help you to rewire your brain, allowing your mind to think positively and successfully according to Shawn Achor, author of The Happiness Advantage.
"What am I thankful for right now?"
"What are 3 amazing things that happened today?"
"How am I feeling right now?"
"What would make today great?"
This template is taken from the Five-Minute Journal. Write the five most important tasks you need to accomplish for the day.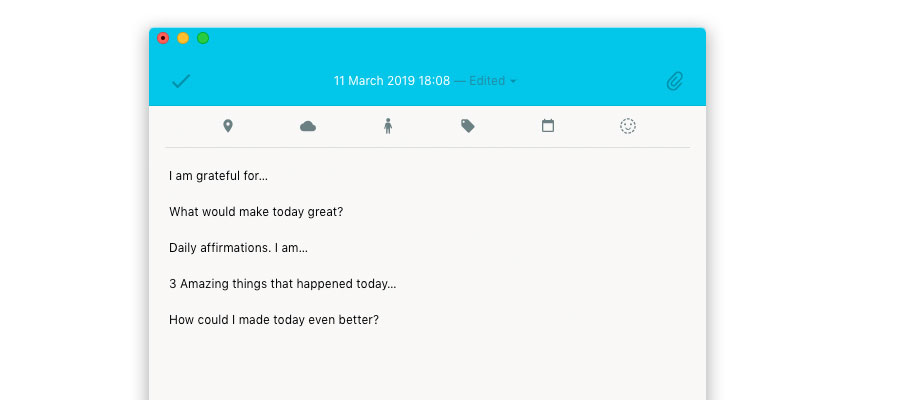 The best time to do your Reflective Journal is in the evening. You can review your day and improve from your past experience.
"What did I achieve today?"
"What lessons did I learn?"
"How could I have made today better?"
Make a record of your nightly dreams with a Dream Journal. While your memories are still fresh after waking up, make notes about your emotions, the colors, people, and places that you dreamt of. Make notes describing your dreams and have the chance to make sense of them with your very own dream journal.
Plan your next travel adventure from start till end with a Travel Journal. Plan the dates of your trip, settle your accommodation, record your flight details, make car rental plans, list out the things you want to do, see and eat, and even manage your budget all in one place.
Start a pregnancy journal to remember the small but notable moments as you journey through your 40 weeks before your baby arrives.
Use your journal to record new developments and milestones like your belly measurement, weight, changing emotions, and your cravings and aversions to keep track of the changes you're experiencing every week.
A Bible or Prayer journal is a place where you can write down notes or drawings as you study the Bible or your scriptures. Express your thoughts and feelings about your everyday experiences and about your spiritual journey.
Use your daily prayer journal as a space to pray and give thanks everyday by reciting your daily verse and prayers, and doing short reflections.
Using a learning journal to log your progress, check in on your goals from time to time, and reflect on how you can improve in a learning journal can help you grow and learn faster.
Track your progress and learn with intention using a learning journal. Take note of what you're good at, what you need to improve on, what you like and dislike most about a lesson, and where you think you need more guidance and assistance for more efficient and quality learning.
If you want to begin keeping a diary, consider the type of diary it is and then use the appropriate template to help you get started. Get immediate access to free Journey journaling templates:
Read instructions to import templates into Journey.