The Best Weekly Planner Templates
Good time management is a difficult skill to pick up, but it is so crucial for helping you get more done and come closer to achieving your goals.
That is why having a planner by your side can help you get more organized and better manage your time to help you get your work done!
But if you're not used to using a planner, or if you're not fond of scheduling, you may want to get started with a weekly planner instead.
Photo by Kasturi Roy on Unsplash
A weekly planner is an overview of your plans and goals for the week. Italso helps you to get a better idea of the important tasks, events and appointments of the week as well as the short-term goals you want to achieve.
There are also several different types of weekly planners.
Some are designed to help you lay out the most important tasks, events and appointments of each day in the week. This makes it easy for you to see what you should prioritize with just a single glance.
Other weekly planners may focus more on weekly goal-setting and reflection by prompting you to look back on the last week and finding areas of improvement for you to work on. This helps you learn to live each week mindfully and constantly grow as a person.
Photo by Jess Bailey on Unsplash
It's best to start using your weekly planner even before the week begins. It's recommended that you start planning for the week on Sunday night, or even on the previous Friday!
Using your weekly planner in advance will help you to plan with a clear head and to mentally prepare for the week ahead.
Unlike a daily planner, a weekly planner will only have enough space to feature your top priorities of the week. This means that, before using your weekly planner, you need to sort your priorities and figure out which ones you need to tackle first.
There is something to learn from every week and every day of our lives. Whenever we complete a week's worth of plans and tasks, it's important to take a moment and reflect: what did we accomplish this week, and what improvements can we make in the next?
While it's important to be productive, we should also include rewards and break times into your weekly planner.
Planning rewards can help incentivise you to get your work done within the designated time. It also encourages you to take breaks to rest and recuperate after working hard.
With all the different kinds of planners out there, why should you choose a weekly planner over, say, a daily planner?
Daily planners help you get organized on the micro-scale, but scheduling your every day and every hour down to the smallest details can be overwhelming for some. It can also be a pretty effortful commitment.
On the other hand, weekly planners are more concise and to-the-point. A single glance is all you need to remind you of what you should focus on this week.
Everyone works differently. Some people like to plan exactly how many hours a day to spend on a large tasks. Other people prefer working on their own time, so long as they get the task done before a deadline.
If you're more of the latter, a weekly planner will be more beneficial to you and complement your working style better.
If you are now interested in exploring using some weekly planners to organize your time, you may want to consider using digital weekly planner templates, as opposed to traditional paper ones.
Digital weekly planner templates are quick and easy to download. Furthermore, you can simply duplicate the page if you happen to run out of space. All you need a tablet and a stylus to help you write on the template.
So, here are some ways you can get your hands on a digital weekly planner template.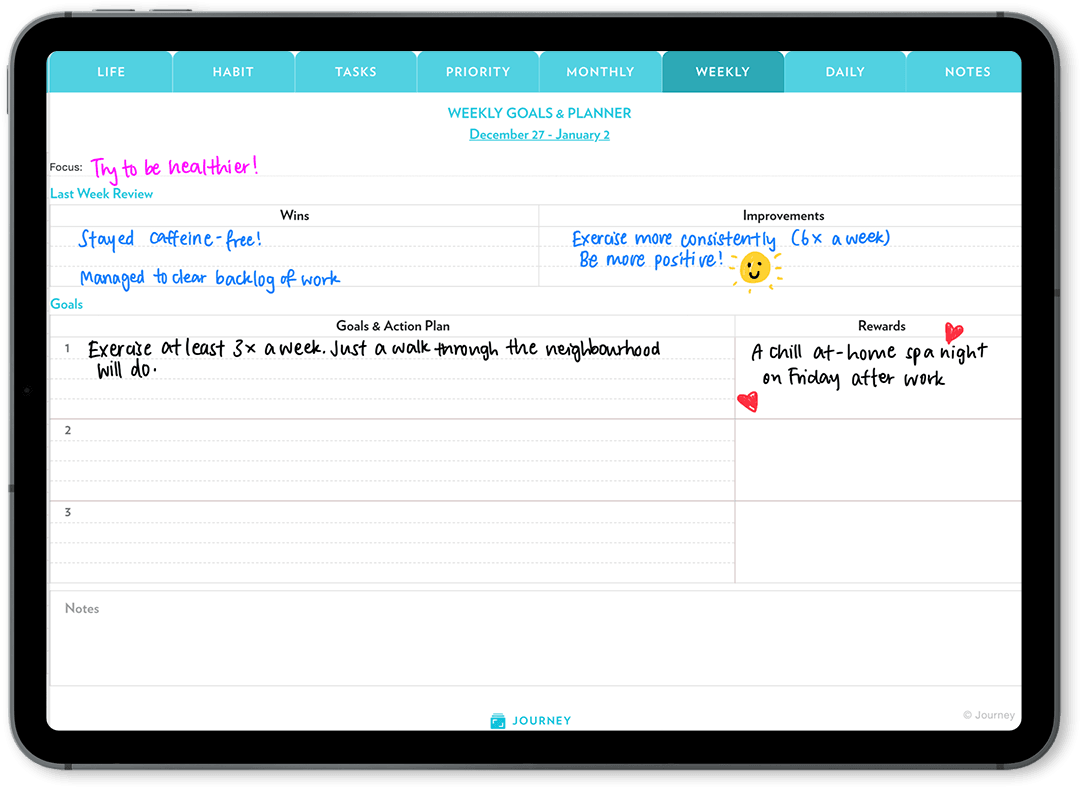 Journey Digital Planner 2022 is a digital PDF planner. Aside from a dated weekly planner for all weeks in the year, the digital planner also has other features such as a monthly planner, Eisenhower Matrix, daily planner and many more!
Canva provides a wealth of digital weekly planner templates. Enjoy beautiful, intricate or minimalistic designs of your choosing as you organize your week.
If you're the creative sort, you can even customize the pre-made templates available to you, or even create your very own from scratch!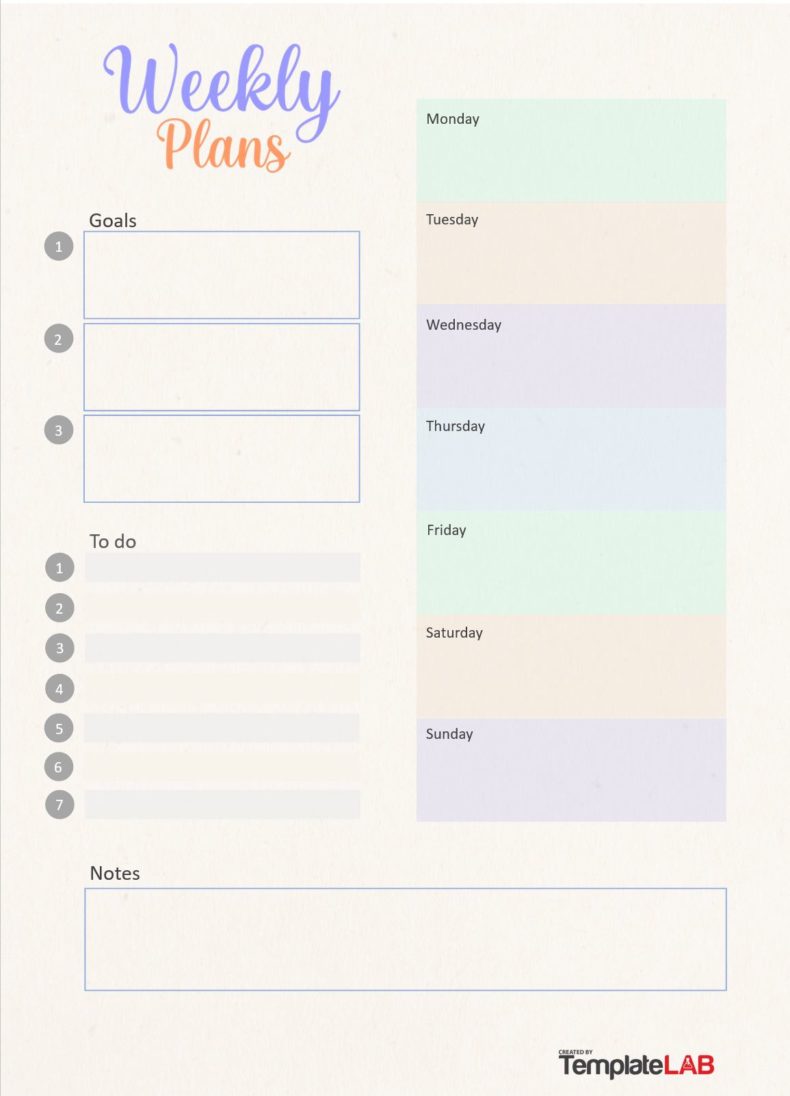 At TemplateLabs, you'll be able to browse through both daily and weekly planners of all sorts of designs. You can even download the templates as a Word Document, Photoshop or Powerpoint.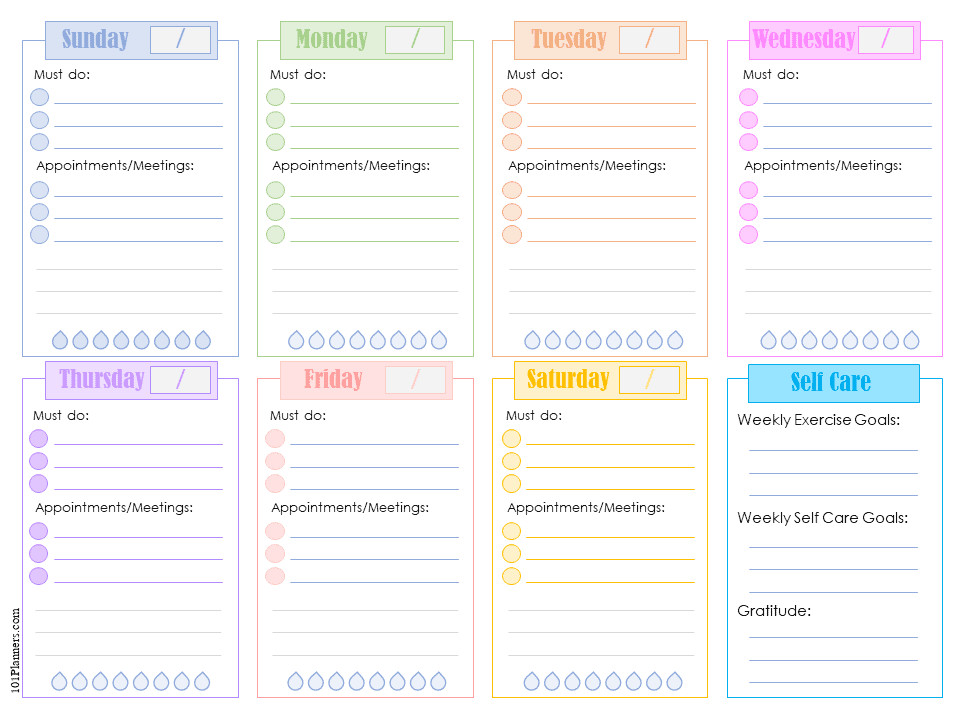 101 Planners offers a variety of printable weekly planner templates. You can download weekly planners, weekly calendars, Bujo weekly spreads and even an editable blank weekly calendar.
---
Now that you've discovered the benefits of keeping a weekly planner, as well as weekly planner templates that you can easily download for use as a digital planner, we hope that you have been inspired to keep one of your own!
Make every week your own, starting today.